This year, I find myself appointed to the children's committee of my local Quaker meeting. I'm a bit surprised at this, I've been going to meeting for over thirty years, mostly fairly regularly, mostly in the same meeting; helped on the children's meeting rota all that time; brought up two children in the meeting and child-minded another one; and never been on children's committee. Until now.
This has led me to think about what we are aiming to do, why we are doing it and how we are doing it.
I'm sure we are not doing it because 'the children are the future of the meeting'. The future of the meeting is more likely to be in the hands of those over fifties out there who haven't even found Quakers yet. The children are the 'now' of the meeting, along with all the other people who worship with us regularly or occasionally, or join in with our other activities. Like everyone in the meeting they need opportunities for friendship and for learning; to feel part of the community and able to be themselves.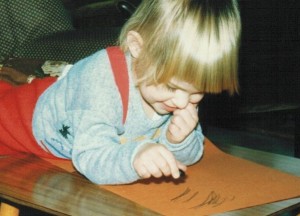 I enjoy helping with the children's meeting because I learn a lot, both in preparing for the sessions (especially if I am asked to lead a session on something I know little about) and from the youngsters' responses and the chance to see things from their perspective. I like spending time with different members of the meeting in smaller groups with a certain amount of structure. This includes children's meeting as well as bible study, Wednesday (writing) group and spiritual journeys. I especially like all age worship Sundays in Watford. The opportunity to chat with people over a simple relaxed breakfast, to join in simple activities together (chopping fruit, or painting, or playing as equals), to come together in worship is very welcome. I started going because I had children to go with, but I've kept going since they grew up and moved on.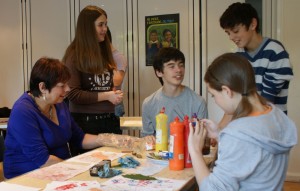 What are we trying to achieve? We want the children to be safe and happy. We hope they will find an understanding of something in our silent worship, but, like adults, some take to it easily and some find it really difficult. I hope they will gain some basic knowledge of Quakerism and of the Christianity in which it is rooted, and of the wide range of Quaker belief and activity in the world. I think we also want to encourage them to ask questions, and to seek their own answers while respecting other people's views.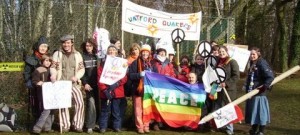 How are we doing this? For the younger children, we read them stories, run around the garden, paint, draw, make models, maybe act out a story. We could sing or play music (though that's not my strength). We also need to make time for being quiet together, reflecting on what we have done and listening to God. With the teenagers, we tend to do more discussion and less crafts and running around. That may or may not be a good approach. Of course, this is only the Sunday morning bit, many do take up other opportunities such as Area Meeting camp, Link group, summer school and Junior Yearly Meeting.


It may be that these methods are good, but there may be other things we could try. I'm sure that it's our attitudes and the way we behave that have the biggest impact in the long run. Treating the children and young people as a vital part of the meeting is a good place to start, including them in the planning and giving them some responsibility is a good way to progress. It's also important to remember that people learn by doing, so we can all learn more about meeting for worship by coming together in worship than by talking about it (though talking has it's place).
Let's have some experiments: try different formats for all age worship; let young people be elders and conclude the worship; have the children join the adults at the end of meeting for worship instead of the beginning (or vice versa); worship outdoors; make a noise; invite the adults to listen to some stories; any other ideas?