I've been reading 'Cultivating the Mind of Love' by Thich Nhat Hanh recently. It's taken some time because it's given me much to think about. In the early chapters Thay talks about his experience of falling in love as a young monk and asks his reader to recall their own first love. I took a few weeks over that exercise and I think it was helpful to do so.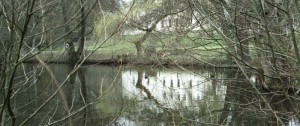 More recently I've read the chapter about the Avatamsaka Sutra which I found difficult to follow, to understand, until I got to the last paragraph. Let me quote:
'Don't worry if you don't understand. You don't have to understand anything. Just enjoy the words of this beautiful sutra. If they make you feel lighter, that is enough. It is not necessary to feel a heavy weight on your shoulders. Someday, with no effort at all, you will understand. You only have to allow yourself to be there, to touch deeply each thing you encounter, to walk mindfully, and to help others with the whole of your being. This is the practice of non-practice.'
I recognise that need not to try too hard. For years I couldn't catch a ball. My teachers told me to 'watch the ball'. I watched, I missed. I tried harder, I still missed. Eventually I found out that with one very short-sighted eye, the ball wasn't where I saw it. I stopped trying. Quite often I catch the ball. My young son was diagnosed with severe speech dyspraxia. The speech therapist explained that the harder he tried to talk, the more he couldn't do it. We played lots of games that encouraged him to make speech sounds, but without any pressure. He has grown into a young man who talks clearly (often at length) and is not intimidated by public speaking.
If I try hard to still my monkey mind and be in the present moment, I just end up with more thoughts, including thoughts about not thinking. If I just acknowledge the thoughts and then let them go, my intellectual mind is much calmer, and a deeper understanding can, occasionally, find a way through.
So I'll let go (not try to let go, just let go) of worrying about understanding and just enjoy the sutra (no matter now that if isn't in English), or let the words of the dharma talk fall on me like rain (the rain I've learnt to accept and welcome), or just immerse myself in the freeing waters of silence. Then I'll observe how much of that I carry out of the meditation hall with me.