Thus ran the invitation:
Christians across Watford invitation to a time away together
Thursday – Friday 29th – 30th January 2015

'Talking Truth without Falling Out'

Let us get away together to relax and to find refreshment. Let us share prayer, Scripture, worship, meals and conversation.
We are used to enjoying each other's company. We respect each other's traditions. We know, however, that there are some issues which could destabilize our underlying unity. We believe that our unity is strong enough for us to be able explore together some of these issues, and to listen, empathise and learn from each other.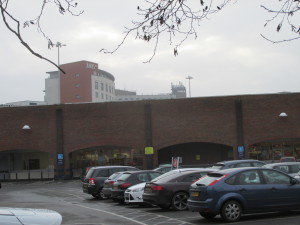 The spoken version at Leaders' Breakfast described the aims as addressing our differences, recognising possible conflicts and considering how we might address them – talks about talks.
I felt strongly that I should go.
The initial programme referenced Acts 15 and Galatians 2, which I dutifully looked up and found relevant examples of disagreements in the early church.
The heading of the final version included this:
Let us assemble remembering the value of flexibility and openness
'let's see where the Holy Spirit leads us on the day'
As a Quaker I could feel very outside this group. I'm not a paid or ordained minister, most of the others are. I don't often use explicit Christian language, many of my 'congregation' would not describe themselves as 'Christian' (though some would call themselves 'Jesus followers'). I don't normally sing, or offer vocal prayer, or talk about 'salvation'.
I felt accepted, able to explain my tradition when relevant, and comfortable to join in. So I prayed aloud (or at least explained how we pray silently), sang, shared in communion, felt respected, included, valued. My impression was that others (from a wide range of broadly Christian backgrounds) did too.
I was impressed by the depth of sharing, listening and support ,and by the way in which people from very different traditions were able to share together. We considered what we might mean by unity, while modelling unity among ourselves and learning by doing. I heard several people say 'we tell other people to …., but we don't do it ourselves' – here we were, doing it ourselves.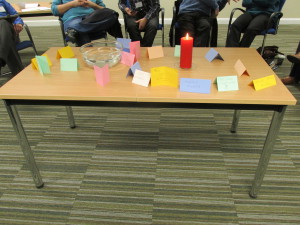 Mealtimes and coffee breaks gave informal opportunities to ask questions, learn, talk, listen – and were well used. Conversations that I became involved in included 'tell me the history of the Quakers' (a big challenge over lunch!), 'where do Quakers stand on equal marriage?' (rather easier), 'different understandings of interfaith work' (quite challenging), 'does God = Allah? or not' (difficult).
A 'brain storming' session on the topic 'what are my dreams for Watford in 10 years?' led to a range of suggestions, some of which we were definitely not uniting around. Some want improved interfaith relations, some want the mosques to become churches. There was a range of big ideas and small ideas. We observed that they may be good things, but asked 'are they God things?'. I noticed strong threads about acting from love, and praying to find out 'what does the Holy Spirit want?'. Personally I have a dream of 'bringing the Kingdom of God to Watford' – this exercise, by allowing me to hear other people's related dreams, helped clarify what this might look like. Further developing our understanding of what unity means for the church in Watford is going to be a big part of this. In conclusion it was felt that we should be open to God's will, which might, and probably would, surprise us.