A group of people is already busy in the art room when I arrive. Colourful creations are drying on the radiators all around the room. Water is sploshing around on the tables and people are rolling bubble wrap or selecting coloured wool.
Jenni soon explains to those of us just joining the group. All we need is wool, soap, hot water and friction.
We begin by teasing out tufts of wool and wrapping it around our thumbs. Then we soak it in hot soapy water and roll it between our palms. It's quite energetic work, but, with persistence, it turns into a ball of felt. I make another one.
I've long wanted to try felt-making (and have been hoarding scraps of wool), but written instructions and photographs just don't give the feel. This [Woodbrooke tutor development] weekend we'd been encouraged to 'do what we needed to do' and what I needed just now was some 'hands-on' learning. Felt-making was perfect. In the next hour or so I make several samples – felt balls, lengths and flat pieces. I am loving the colours and the way they blend together, and the freedom to make a mess.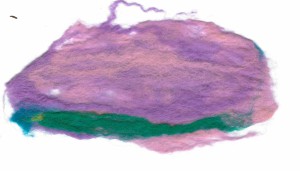 And the group blends together while we learn. Different ages, different backgrounds, but all beginners here. Advising each other about what we had just learnt, about how long to roll for, how much water to use. And sharing our results, the colours, the way the wool shrinks and binds together, the appearance of a multi-coloured felt ball when sliced through.
We envision buttons, seasonal tree decorations, bookmarks, purses, pockets. I start to wonder what else would make felt. That old shabby jumper I've been loathe to part with – Jenni suggests using the washing machine.
I also begin to see lots of metaphors, blending colours together while retaining their identity, making new from old, rough times eventually producing something new and good, … , I'm sure you can think of more for yourselves.