Recently I went away for a retreat* with Christian leaders from across Watford from a wide range of organisations and denominations. One of the strange things to me is the idea of starting with Bible readings. As a Quaker I start with expectant, waiting silence which may lead me to the Bible but quite possibly elsewhere.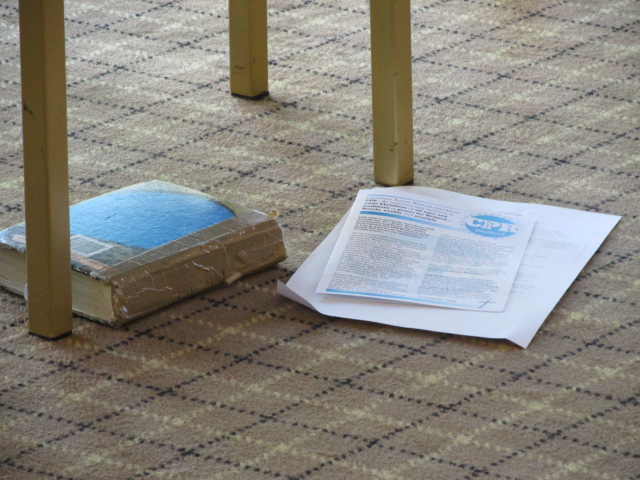 However, on this occasion one of the initial readings was from Paul's letter to the Ephesians (3:14 – 19):
For this reason I kneel before the Father, from whom every family in heaven and on earth derives its name. I pray that out of his glorious riches he may strengthen you with power through his Spirit in your inner being, so that Christ may dwell in your hearts through faith. And I pray that you, being rooted and established in love, may have power, together with all the Lord's holy people, to grasp how wide and long and high and deep is the love of Christ, and to know this love that surpasses knowledge – that you may be filled to the measure of all the fullness of God.
The phrase 'so that Christ may dwell in your hearts' really spoke to me. Like early Friends I could read this and relate it to my own experience, in this case of the Inner Teacher. It stayed with me throughout the retreat, where our theme was 'going deeper' and we considered and shared what it meant to each of us to go deeper with God personally and with our congregation or organisation. The depth of sharing was amazing.
We also worshipped together in a variety of styles and heard about other unity movements, similar to Christians across Watford, in other UK towns and cities, and across the world.
Some years ago, challenged on a Woodbrooke course to be bold and speak out about how I would like to help change the world, I committed to paper and said to my small group that I wanted to help bring the Kingdom of God to Watford. In one way I believe that it is already here, even though it doesn't look much like it. What is needed is to show people that and to change the things that don't fit. A good start is for us all to 'love our neighbour as ourself', another is for us to do this together. This group is one that is working towards the same aim (even if we picture the Kingdom a bit differently) and is modelling it in the relations we are all building with one another, and, in our various ways, with the much wider community.

* I am cautious of the word 'retreat' in this context. It suggests to many a quiet, inward solitary occupation. This was a retreat from the immediacy of our daily lives and from Watford (though we only travelled across Hertfordshire), but very much a seeking together for the will of God for ourselves and our town. And it was certainly not quiet, we did a lot of talking, but with a lot of good listening too.