"It is difficult if not impossible to practice the way of understanding and love without a sangha, a community of friends who practice the same way." Thich Nhat Hanh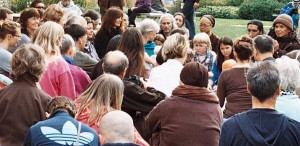 Sangha is my favourite 'Buddhist' word. Community is a good word, but we use it for so many different communities, many of them purely secular, that it is easy for the deeper spiritually supportive concept to get lost. In my own mind I'd use the word sangha when Quakers use the English word community with the intention of conveying that spiritually supportive dimension. In our community, our sangha, 'Our life is love, and peace, and tenderness; and bearing one with another, and forgiving one another, and not laying accusations one against another; but praying one for another, and helping one another up with a tender hand.' as Isaac Penington put it in 1667.
I was thinking about all this as I set off yesterday for a morning of mindfulness.
I arrived in good time for the sangha meeting and was greeted at the Hop Gardens door of Westminster meeting house by a familiar, friendly face. The journey had taken an hour and a half so I was glad to still have plenty of time to use the toilet, change my shoes (most people go in socks or barefoot for meditation but my MS symptoms mean I need to support and protect my foot, so I take my foot-up and slippers) and refill my water bottle.
Entering the meditation room, I found several people already well settled making the room and the silence welcoming. I slipped into a space between two people beside someone I know. No greetings beyond a smile or a bow were needed. I settled myself on the cushion and paid attention to my breathing. Once I was conscious of my breath, I also looked around and was conscious of other sangha members arriving. By 10.30 about 40 people had gathered and the facilitators began the formal proceedings, although clearly the morning of mindfulness had begun sometime before I'd arrived.

The guided meditation concentrated on using our senses to be aware of, and in touch with, the natural world, and on seeing the healing and nourishing elements in that. I visualised touching the air, sunshine, trees, soil as I breathed in and smiling to them as I breathed out. We walked mindfully together and the sense of being together, being 'one body', was strong, continuing into the silent meditation that followed. The dharma talk was a recording of Thay explaining how we need to touch peace within ourselves before we are ready to touch and transform war within ourselves. Likewise that we need to touch peace and the healing and nourishing things in the world around us to prepare ourselves to touch and transform war in the world around us. We need to do the personal preparation, but we must not shirk the responsibility of transformation, internal and external.
There was a strong sense of unity in the sangha, and that came through also in what was voiced by those who contributed vocally to the sharing of experiences. A lot of what was said was positive, but there was also awareness of ,and concern about, our government's decision to go to war again in Iraq, and about facing death. There was support, but there was also the challenge 'what will you do to make the world a better place?' even if it was not but into words that bluntly. We concluded the sharing by chanting the invocation to Avelokitesvara for love and compassion for ourselves, our loved ones and all in the world.
I felt supported and strengthened and better able to continue to pray for and send metta to the perpetrators of violence as well as those it is perpetrated against (who can be the same people). I'm also convinced of how valuable the sangha is in enabling us to continue our Buddhist practice.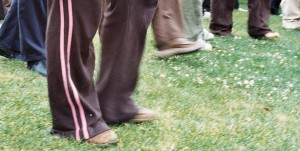 This morning I shall walk, mindfully I hope, across the park to Watford meeting house to join another sangha for meeting for worship.