During 2001-2002 Rhiannon and I were both very ill with ME/CFS, easily tired by any physical activity (eg fetching a drink from the kitchen, getting dressed), prone to frequent infections, often in pain. Life was very boring and it would have been easy to be very miserable. We needed some very light activities to distract us.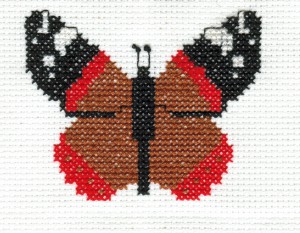 Cross-stitch became one of our favourites. In particular we made greetings cards, many featuring butterflies. Our Quaker meeting was raising funds for a refurbishment and extension of our building. In addition to applying for grants and organising fund-raising events, we had a 'bring and buy' trolley on Sunday mornings. People contributed vegetables they had grown, cakes they had baked, other things they had made. It didn't bring in vast sums of money, but it helped, and, very importantly, it gave everyone a chance to be involved.
So we sat at home and, as and when we were able, we drew designs on graph paper with coloured pencils, stitched them, mounted them in cards, wrapped and presented the cards neatly for sale. It kept us very gently occupied. Importantly it also kept us feeling that we were contributing to the community effort.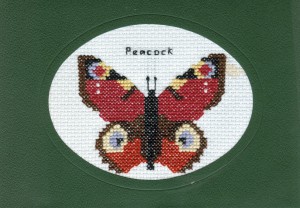 With many thanks to Luanne for the creative interpretation of 'x'.